---
The Biden regime is using the mass influx of migrants it has created with open border policies in a way that will allow Democrats to steal elections for decades, if not forever.
As reported by The National Pulse, the regime has been conducting secret flights — deemed "ghost flights" — into key states for months, and while many of those aliens being flown into battleground states are minors, they nonetheless represent a boost in population count that Democratic operatives can use to pad voter registration efforts and, thus, illegal votes like they did in the 2020 election.
Republicans in GOP-controlled states have begun implementing new laws designed to prevent the kind of fraud that allowed them to steal the last election from President Donald Trump, but the bigger plan is to create mass mail-in voting so that Democrats can inundate ballot-counting facilities they run with forged ballots filled out by masses of illegal aliens, even if they're not adults. Also, padding battleground states with more occupants in Democrat-held areas means more power for the party in the next census (Democrats are long-term planners).
It is sinister but it was absolutely taking place, as The National Pulse reveals, in Pennsylvania over the holidays:
Congressman Dan Meuser as well as gubernatorial candidate Lou Barletta have urged immigration authorities as well as Governor Tom Wolf to explain what one source told The National Pulse were "ghost flights" into Scranton International Airport over the course of December.
The term "ghost flight" was used to describe the secretive nature of the flights, some of which arrived at night, without passenger manifests being made available.
Beginning on December 11th and set to conclude on December 30th, hundreds of what are believed to be underage, illegal immigrants have been flown into … Pennsylvania by U.S. Immigration and Customs Enforcement (ICE).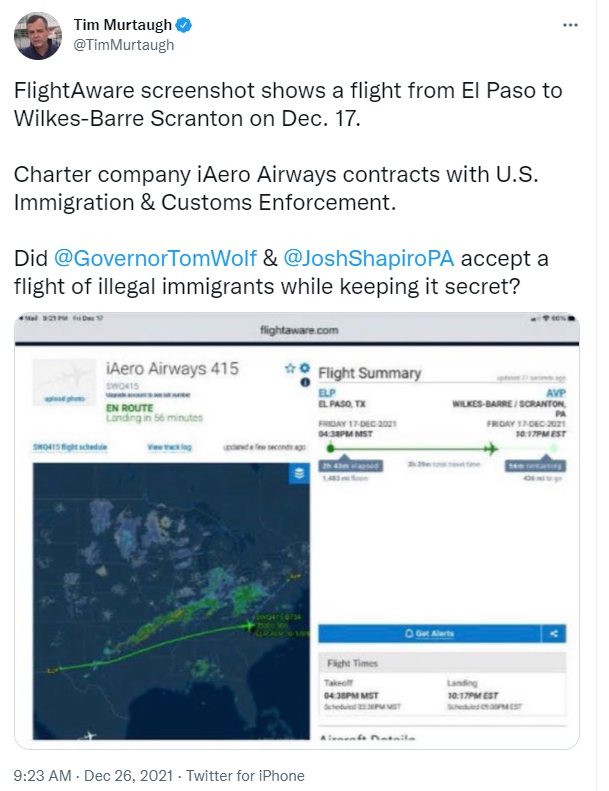 The flights originated in Texas, with at least some of them landing in Cincinnati, according to Jim Gallagher, president of Aviation Technologies Inc., the airport's fixed-base operator.
In an interview with a local media outlet, Gallagher said that he witnessed mostly young people who could not speak English get off the planes and then get aboard busses in nearby hangars, destinations unknown. Gallagher called them "ICE flights" — for Immigration and Customs Enforcement.
"We don't know their status," Gallagher said. "It seems that all of the vetting should take place at the border, but it appears that there isn't much transparency there. More information needs to be provided. There needs to be more control."
The regime is also flying illegal aliens to other key battleground states including Florida, leading Gov. Ron DeSantis (R) to declare earlier this month that Biden is running a "human smuggling operation."
Fox News host Laura Ingraham set the segment up with a video of DeSantis joking earlier by saying if illegal immigrants were being sent to Delaware, Biden's homes state, or Martha's Vineyard, that the wide-open southern border "would be secure the next day."
"The border is obviously a disaster and some people say, 'Well, that's a problem for Texas or Arizona.' Well, actually, the Biden administration puts people on planes and flies them into Florida in the wee hours of the morning," DeSantis told Ingraham. "They've done over 70 flights in the last six months, dump people here. And we had — a few weeks ago — one of those people that Biden dumped, ended up committing a murder in northeast Florida. So, these are crimes that would not have happened but for Biden's recklessness."
"Our view is, if they're going to be dumping — we want to be able to facilitate transfer to places like Delaware, and we have $8 million in my new budget to be able to do that," he continued. "But we also look to these carriers that the federal government is contracting with, and we are going to pass legislation that says, if you are facilitating Biden's policies, which is effectively a mass human smuggling operation, you are not going to be able to do business with the state of Florida or other local governments, and we are going to charge you restitution for each individual that you are bringing," he added.
Democrats cannot win national elections without cheating. We know that now with certainty.
See more stories like this at OpenBorders.news.
Sources include:
Submit a correction >>